Kitchenware Blogs
Best Airtight Containers For Long Lasting Storage
Buy high-quality plastic kitchenware products from a prominent wholesale kitchenware supplier.
Prepared an extra quantity of dinner tonight, and now you don't want to dump it. Or found an exciting discount on vegetables, fruits, or lentils at the grocery store that you couldn't keep from buying in bulk.
Whatever it is, now you must be figuring out how to store these items safely so that you keep them fresh for a long time and prevent them from spoilage.
Well, an airtight container could come to your rescue. Whether you want to store fresh vegetables, snacks, or leftover food, an airtight container can be a handy option. These containers prevent air from seeping inside, thus preventing the food item, cooked or raw, from spoiling.
At Vyom Overseas, we have various plastic containers in different sizes. Check out these containers below and keep your food safe and fresh for longer.
Matuki Airtight Container
If you want to store the leftover food that you made in a little too extra quantity, Matuki airtight container is your go-to option. Its earthen pot-like design does not take much of your refrigerator space. It is made of high-quality food-grade plastic that does not release toxins.
Moreover, it comes in a large 900 ml space capacity, allowing you to store more food. What is more, we have two sets available. First is a 2-piece set with two plastic containers, a perfect choice for a small family. The second is a 6-piece set, with six high-quality containers to store more food and raw items.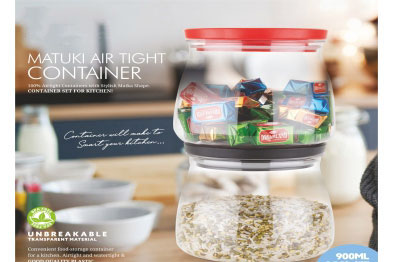 Handle Container
Handle containers are perfect storage for everyday used items. For example, you can store grocery items, whole spices, lentils, raw fryums, flour, etc. The see-through design of this storage makes perfect sense for this purpose, as you can recognize every item thanks to its transparency.
In addition, the boxes are sturdy, high-quality plastic and can withstand significant pressure. This allows you to stack them up to save space on your kitchen rack. Handle containers come in sets of six pieces in three different sizes, mainly 2000 ml, 1600 ml, and 1000 ml.
Square Container
Square containers are another airtight storage box that helps you store everyday-use items like beans, spices, and nuts. These boxes feature a super strong airtight and watertight seal which keeps food fresh for a longer time. The rubber ring sits perfectly on the container's edge, creating a vacuum that seals the food inside safely.
Moreover, the ergonomic cap is easier to open and close. You get three different size options for square containers. From 600 ml to 900 ml and 1400 ml, these containers come in diverse sizes to meet your unique kitchen needs.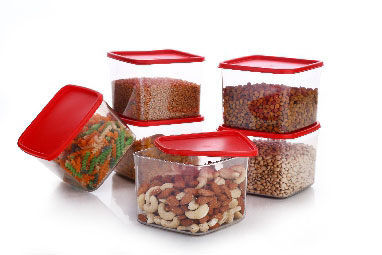 Square Container With Handle
Till now, we have reviewed small boxes that can contain everyday use items. But what if you want to store something you've bought in bulk?
Like pulses, grains, spices, or anything that you can't keep out in the air and needs to be locked away in an airtight container. Here are big-size containers where you can store your bulk items.
These square containers come in 3 Kg and 5 Kg sizes, perfect for storing large amounts of food. What is more special is that they come with a sturdy handle, which makes moving these canisters easy.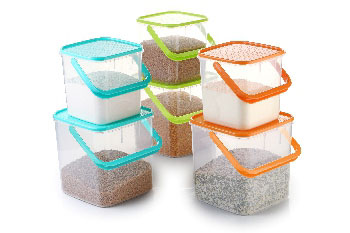 Kitkat Airtight Container
Kitkat airtight containers are perfect for storing ground spices and spice blends. These storage containers are designed for stacking both upward and sideways. The airtight lid keeps the air outside and food fresh inside.
This makes KitKat airtight containers perfect storage for ground spices prone to lose their flavour in the air. Also, since the plastic is food-grade and high-quality, you don't worry about your food's safety.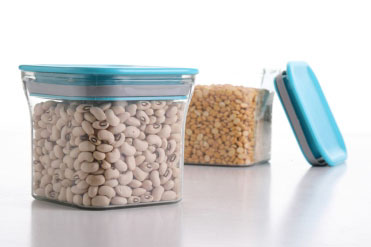 Xllent Airtight Container
Here's something to store your snacks and dry fruits. These airtight containers from Xllent have an ergonomic lid that supports easy opening and closing. Its compact size makes sliding up and taking out things easier.
However, it comes with enough spacious size and can accumulate a significant amount of food. The containers come in 20-piece sets, each with a 500 ml capacity. So now you can store a variety of items and keep your kitchen shelf decluttered.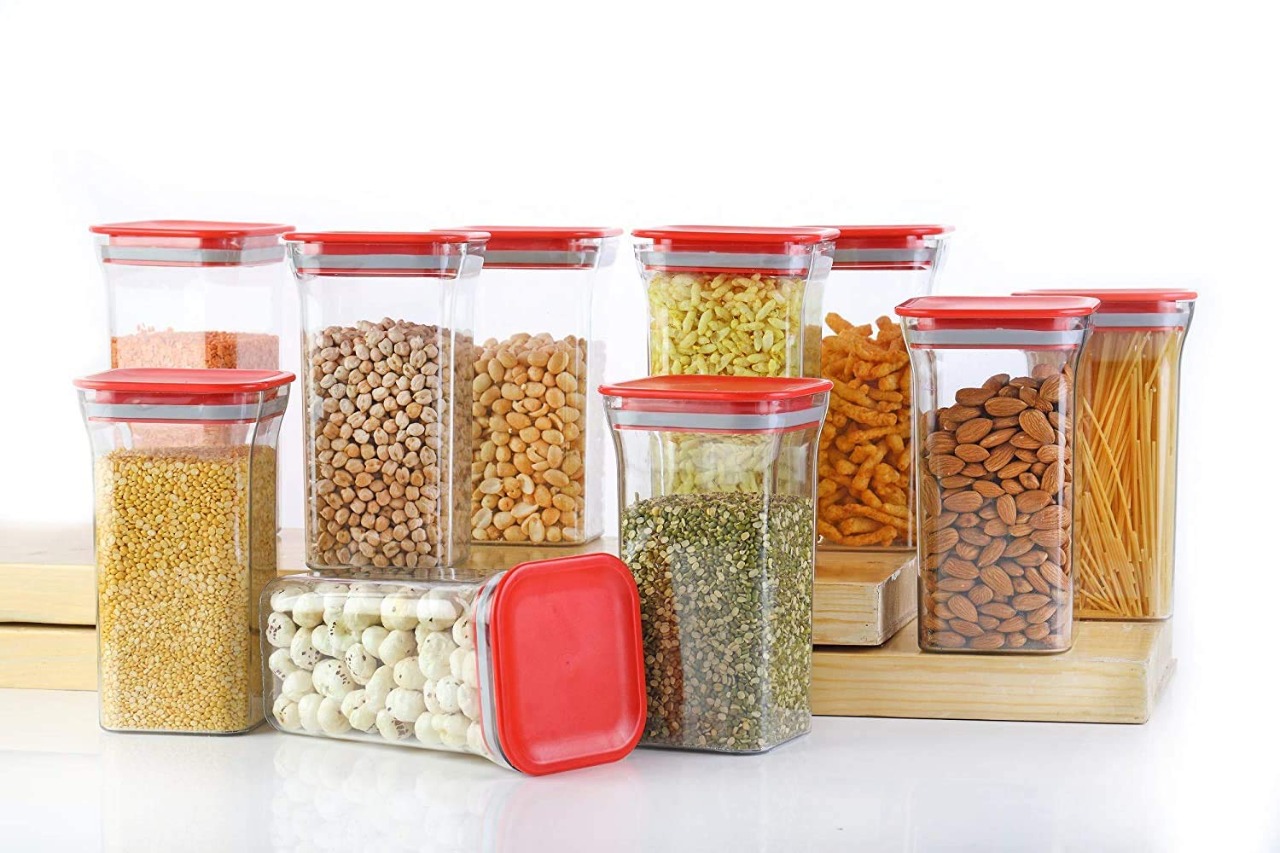 Buy Plastic Kitchenware from Vyom Overseas
Buy all these super sturdy airtight containers in bulk from Vyom Overseas. We are a global wholesale kitchenware supplier that provides high-quality, food-grade BPA-free plastic kitchen items. Make your kitchen a superspace for your cooking with our wide variety of plastic containers.
What should I keep in mind when buying plastic containers?

One of the first and foremost important things you should look for is the quality of the plastic. The plastic containers you buy should have a food-grade quality so that your food is not contaminated by toxins. Moreover, you should also keep your requirements and space in mind to buy the right size and quantity of boxes.