Kitchenware Blogs
What is a Dry Fruit & Chilly Cutter and How to Use It?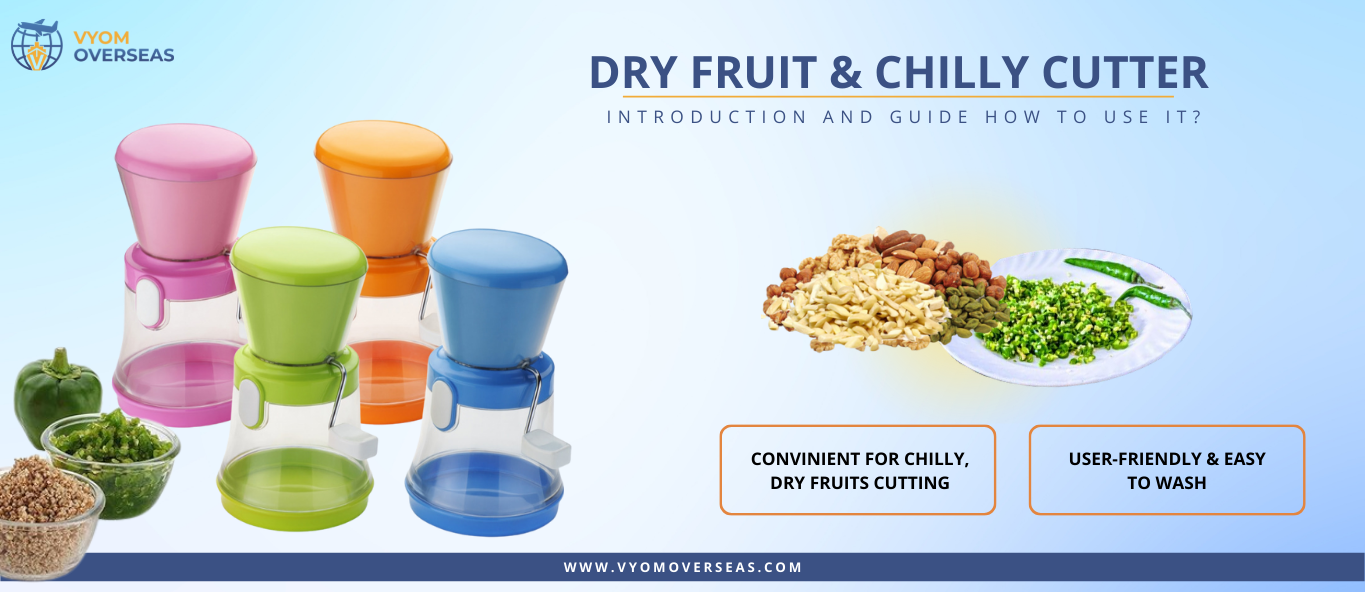 So, your chilly cutter just arrived that you have ordered from a kitchenware wholesaler, and now you are clueless about how to use it. It happens. Buying new things online has its own disadvantages. Like this one, you can't try and learn to operate the kitchenware product yourself before buying.
But this should not stop you from buying kitchen products to make your kitchen time seamless. For example, a chilly or dry fruit cutter is a great kitchen tool. And if you don't know what it is and how it can help you turn your kitchen hours into minutes, then this blog is for you.
This article gives a complete guide on what a chilly and dry fruit cutter is, how it works and how you can use it. So, stay tuned with us till the end and bring home equipment that makes your cooking time hassle-free and productive.
What is Dry Fruit & Chilli Cutter & How It Works?
Dry fruit and chilly cutter is equipment shaped like a traditional grain grinding machine. The equipment comes in both plastic and metal materials. The metal ones are more robust and can last longer. However, they can be slightly heavier and hard to operate compared to their plastic counterparts.
The anatomy of this device is simple. It has an opening on the top that accepts veggies and dry fruits. Its middle part contains sharp stainless steel blades on which food gets stuck and cut into pieces small enough to pass through a steel straining net into a container.
Bottom part: the food container gathers those chopped and filtered out food pieces safely and hygienically in it. And the last part: dry fruit and chilly cutters also have a handle, which helps you rotate the blades and cut food items. These parts work synergically and make your chopping job much more comfortable and quicker. You can buy Dry fruit and chilly cutters in bulk from us.
What is more remarkable about this cutter is that it can be completely disassembled. In addition, it can come with a detachable body, so every part can be separated and washed thoroughly by hand or in a dishwashing machine. But you would want to confirm whether your machine is dishwasher-friendly or not.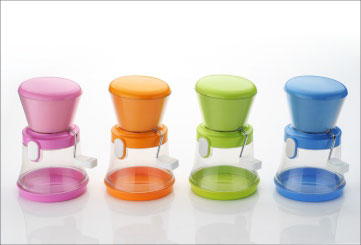 How to Use Dry Fruit & Chilli Cutter?
Using a dry fruit and chilly cutter isn't rocket science. The equipment's use is pretty assumable from its anatomy. Still, it should be used correctly to ensure the longevity and quality of chopped food. Before you get started with the tool, make sure it is thoroughly washed. You don't want to have dirt or hair strands in your food. So, clean the dry fruit & chilli cutter with regular tap water every time you use it.
The upper part of the cutter is wider but would not be wider enough to accommodate whole vegetables or dry fruit. So if you want to chop large size veggies or dry fruits, like onion, chillies, ginger, garlic, almonds, cashews, etc., you would have to cut them into large pieces beforehand.
To start the process:
Put the big chunks of fruits or vegetables into the inverted pyramid-shaped mouth of the machine. But make sure you don't choke it by filling it entirely. Make room for blades and food pieces to move.
Grab the handle and start rotating it in a clockwise direction only. You may have to use your other hand to stick food pieces with the blades and let them chop them.
The chopped food items will be accumulated in the bottom container. You can detach the upper part and remove those chopped veggies or dry fruits.
Buy dry fruit and chilly cutters from Vyom Overseas
If you haven't bought your chilly cutter till now, then order it today from Vyom Overseas. We are a global kitchenware wholesaler and exporter providing bulk plastic kitchenware products worldwide. You can buy robust quality dry fruit and chilly cutters in bulk from Vyom Overseas at the best affordable wholesale price. So, book your dry fruit chilli cutter order today and get it delivered to your doorstep at the lowest reasonable market prices.