Kitchenware Blogs
Dry Fruit & Chilly Cutter: Multi-functional Kitchen Helper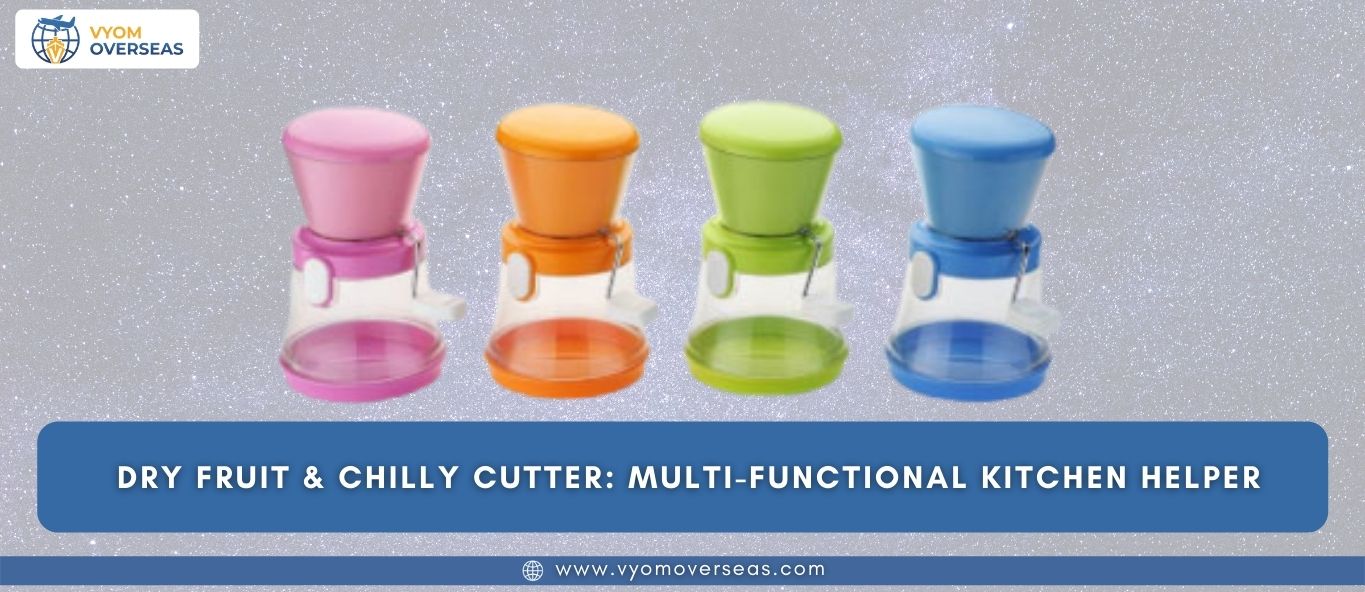 You can explore online stores to bulk buy kitchenware from wholesale suppliers worldwide like dry fruit & chilly cutter. Indeed, this plastic kitchen tool has versatile use and is preloaded with multiple functions.
We think you might not know this little kitchen helper's working, functions, and features. Therefore, we will understand this kitchen gadget by thinking of an ideal situation or case of cooking a recipe.
Imagine a situation where you have to prepare a recipe that involves making gravies with small vegetable pieces. Then, you have to cut all the vegetables and dry fruits manually into small fine particles.
But, on the contrary, it consumes more time to convert vegetables and dry fruits into minute particles manually. Also, sometimes a sharp knife or tools are absent with sharp and pointed blades.
However, you may think that there will be a dedicated kitchen tool that completes the cutting and chopping task faster.
So, the experts and kitchenware professionals have developed kitchen tools like multifunctional dry fruit & chilly cutters with sharp blades.
Besides, you may have questions like, what is dry fruit & chilly cutter product? How does this little kitchen helper practically work?
For this purpose, we will provide you with the necessary details like working, functions, features, and use of this equipment.
What Is Dry Fruit & Chilly Cutter?
Usually, dry fruit & chilly cutters are a little multifunctional plastic kitchenware that cuts vegetables and fruits into tiny pieces. In other words, it is a kitchen helper that cuts fruits, vegetables and other ingredients like chilly in small pieces.
Now, you can cut and chop various ingredients faster and quickly with the sharp blades of this kitchen gadget. Ideally, cutting is convenient and hassle-free with this wholesale dry fruit & chilly cutter.
Indirectly it affects the cooking recipe speed, and you can prepare recipes faster with this item. Moreover, you can utilize this item for finely crushing dry fruit mix for various Indian sweets.
Indeed, this kitchen gadget comes with a detachable body for easy operations and convenient cleaning. Besides, it has stainless steel cutter blades for quick, fast, and easy cutting of chillies and nuts.
Therefore, you can purchase this little kitchen helper from the wholesale kitchenware supplier worldwide.
How To Use Dry Fruit & Chilly Cutter Multifunctional Kitchenware Product?
To effectively use this plastic kitchen gadget for meal preparation, you must put all necessary items above the container. Afterwards, while placing the ingredients above the container, sharp stainless steel blades are placed behind it.
You can rotate clockwise manually until the blade cuts the required ingredients into small pieces in the next step. After cutting all the vegetables and fruits into minute particles, they automatically get stored in the food container.
In this manner, you can separate the detachable food storage container and collect the ingredients ready for cooking. So, you can cook recipes quickly that require small ingredient pieces without giving effort to fingers and hands.
For instance, you can avoid burning your eyes and fingers while cutting onions and chillies with this kitchen appliance. It is better than traditional manual cutting of these vegetables that hurts your eyes and fingers.
Hence, in this way, you can save your cooking time by using this dry fruit & chilly cutter. Also, you can bulk buy kitchenware like dry fruit & chilly cutter from various online stores.
List Of Dry Fruit & Chilly Cutter Features
Below is the list of salient features of dry fruit & chilly cutter, which makes cutting faster in a short time.
Cutting blade made from robust and rugged stainless steel material.
The entire body of this little kitchen helper is made of durable plastic material.
It is the perfect gadget for your kitchen and cooking multiple recipes.
It is the first choice for chopping fruit, garlic, onion, vegetables, ginger, etc.
This dry fruit & chilly cutter is used in households to cut dry fruits and vegetables, especially chillies.
The sharp blades make cutting and chopping ingredients easy.
All the parts of this kitchen equipment are made of stainless steel and plastic material. So, it gives a superior look and durable life.
This plastic kitchenware is easy to clean and dry after every use.
What Are The Benefits Of Using Dry Fruit & Chilly Cutter?
Although we will get various benefits of using dry fruit & chilly cutters apart from faster cutting food ingredients. Therefore, those additional advantages of using this little kitchen helper are mentioned below.
It is perfect for cutting chillies, onions, and dry fruits. However, this chopper will reduce the workload and simplify the tricky and time-consuming tasks.
The outer body of this kitchen gadget is made of plastic and stainless steel material. Therefore, this combination makes this kitchen tool durable, robust, sturdy and long-lasting.
The sharp cutting blade is made from robust and durable stainless steel. Also, the high-grade mirror finish makes them look stylish and elegant.
It has a rotating sharp cutting blade for practical vegetable and dry fruit cutting into small pieces.
This kitchen equipment comes with sharp blades for easy cutting of chillies without burning fingers and eyes.
It is appropriate for finely crushing dry fruit mix for many Indian sweets.
Also, it comes with a detachable body for easy operations and convenient cleaning with water after every use.
How To Clean Dry Fruit & Chilly Cutter Properly?
After using this dry fruit & chilly cutter properly for cutting and chopping vegetables and fruits into small pieces. So, you can wash it with water by separating the detachable food storage container and cleaning it appropriately.
Indeed, you can let this kitchen gadget dry for some time interval and join all the containers again. In this manner, you can use this kitchen equipment again for cutting vegetables quickly with clean, sharp blades.
Where can you buy the best quality dry fruit & chilly cutter?
Although there are multiple online kitchenware stores available that offer this little kitchen helper. But, as per our suggestion, Vyom Overseas is the authentic online store and leading supplier and exporter of kitchenware items. So, from this online store, you will get the best quality and durable dry fruit & chilly cutter at wholesale prices.