Product
Sprout Maker (Medium)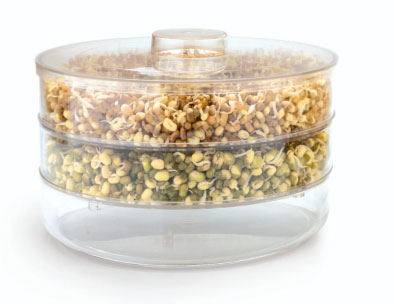 We offer you the best-quality sprout maker with medium food storage capacity. It is made of high-durable, transparent, and food-grade plastic material.
In addition, it comes with a transparent container that makes it easy for identifying the sprouts. It provides an easy to use sprouting system for making a variety of nutritious sprouts in the kitchen.
We offer you a Premium Cutlery Set along with Sprout Maker kitchenware products. Check out Sprout Maker (Small) and Sprout Maker (Big).
How to use sprout maker (medium) for making sprouted pulses?
The sprout maker of medium food storage capacity has a hole covered by a knob through which water slowly seeps into the compartment below.
In the first step, you can put grains or pulses in the containers, keep the lowest container empty. Now, you can make sure that the knobs of adjacent containers are positioned in opposite directions.
In the next step, fill the containers with water not exceeding the level of the knobs. You can wait for twelve to twenty-four hours and replace the water if required.
After a few hours, you get your sprouted pulses or grains.
| | |
| --- | --- |
| HSN CODE | 3924 |
| COLOR | Transparent |
| MINIMUM QUANTITY | 96 Pieces |