Product
HANDY CHOPPER (500 ML)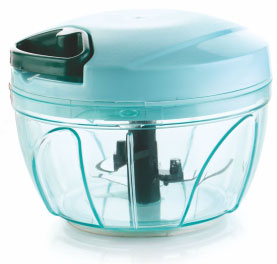 We present you with the best-quality handy chopper having a 500 ML food storage capacity. It is made of high-durable ABS, robust, unbreakable, and food-grade plastic material.
In addition, it can chop vegetables for your salads, fruits, meal preparations, and other cooking purposes. We also provide Handy Chopper – XL (900 Ml) and a simple 750 ml handy chopper.
The essential points about Handy Chopper (500 ML)
There are numerous noteworthy points available for this handy chopper with a 500 ML storage capacity. First of all, it can be opened and detached easily. You can ease your kitchen chores with this handy chopper.
Moreover, you can chop vegetables within seconds with this multi-blade food handy chopper. It is an excellent solution to all of your fruit and vegetable chopping needs hassle-free.
| | |
| --- | --- |
| HSN CODE | 3924 1090 |
| COLOR | Purple, Red, Peach, Sky Blue |
| MINIMUM QUANTITY | 144 Pieces |