Spices Blog
Benefits of Black Pepper for Skin & Hair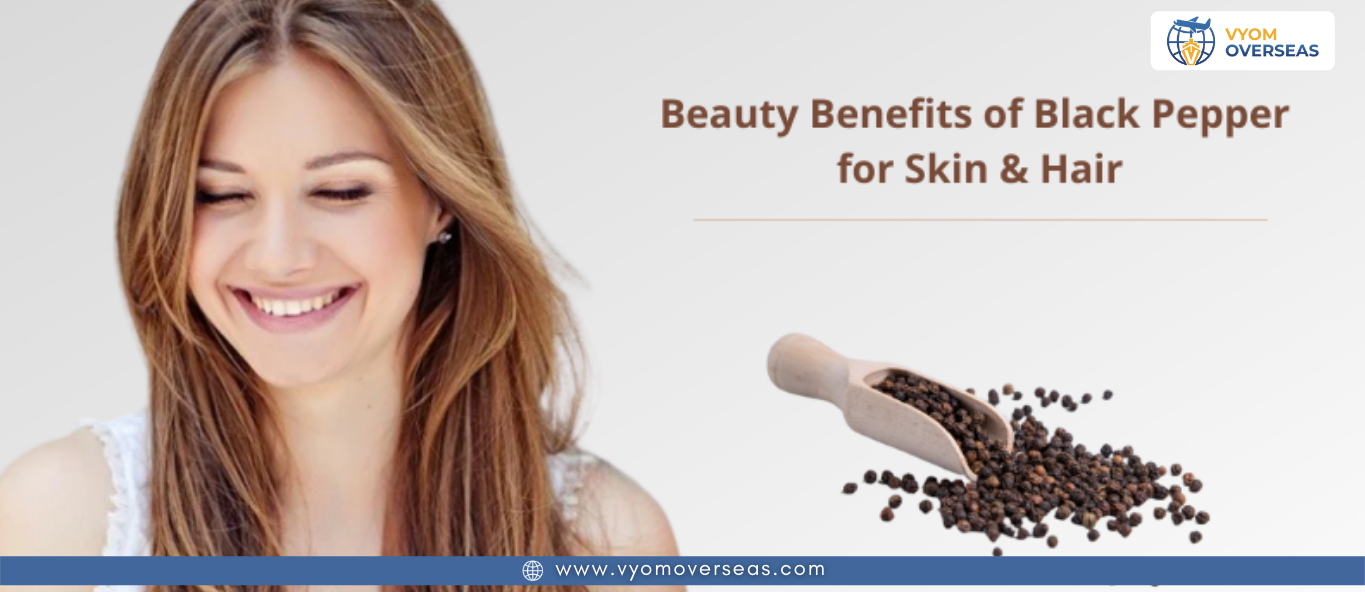 Black pepper is an essential spice in Indian and other South Asian cooking. Therefore, buying black pepper with other bulk spices online for a year can be a great option. And after reading about these benefits black pepper offers to your skin and hair, this spice will definitely enchant you to buy.
Scientifically known as piper nigrum, black peppers are a widely popular spice worldwide. Black pepper is a common ingredient in South Asian countries that adds a spicy flavour to dishes and aids in the body with many health benefits. And it contains various nutrients and medicinal substances that have gained this spice a special place in Ayurveda.
This spice can prevent many common health issues like indigestion, cold, cough, and fever with its potential medicinal properties. Moreover, studies have found that black pepper can effectively deter deadly diseases like cancer. But what is more, black pepper can also ensure the well-being of your skin and hair. This article explains how black pepper can benefit your skin and hair.
Benefits of black pepper for skin
Prevents wrinkles
Premature ageing is one of the common problems that women deal with today. One of the prime causes of premature ageing is stressful work environments. Apart from stress, improper or lack of skincare routine can also result in ageing signs such as wrinkles, loose skin, and the appearance of fine lines.
Premature ageing can be distressing at times. If you are suffering from this, black pepper can be an effective remedy. It has antioxidants that have positive effects on your skin. It reduces wrinkles and fine lines to almost none.
How to use:
Take a teaspoon of black pepper powder with equal portions of honey and turmeric.
Mix all these and add a few drops of rose water to make a smooth paste.
Use this mixer on your face on alternate days for the best results.
Cure vitiligo
Vitiligo is quite a common skin problem where the skin loses its natural pigmentation in several areas and becomes pale white. Till now, the problem has been considered incurable. But recent studies suggest that black pepper can significantly reduce skin pigmentation.
Black pepper contains a piperine substance, which can effectively work on vitiligo patients. Piperine stimulates the production of pigment cells called melanocytes. And combined with UVR treatment, black pepper produces an even skin tone. You can buy bulk black peppercorns or any other bulk spices online from Vyom overseas.
How to use:
Take a teaspoon of black pepper oil or ointment.
Apply it to affected areas.
Leave it overnight.
Some doctors prefer to choose this before conducting UV light treatment.
Cleanses the skin
When mixed with dirt, excessive sebum, and dead skin cells, ever-increasing pollution can clog your skin pores, resulting in acne problems. Moreover, dead skin cells become a layer on your skin, making your face look dull and lifeless. Therefore, regular exfoliation is necessary to clean accumulated pollutants and oil from your pores.
Black pepper can also work as a potent exfoliator for your skin. It is rich in vitamin C, antioxidants, and other vital nutrients that clean your skin from a deeper level. Adding black pepper powder to your exfoliating scrub can double the cleansing benefits. Or you can make yourself a homemade, all-natural scrub.
How to use:
Take half a teaspoon of black peppercorn and grind them to a coarse powder.
Mix the powder with one teaspoon of yoghurt.
Apply this to your face and gently massage it over your face.
Leave it for 15-20 minutes and wash off with regular water.
Benefits of black pepper for hair
Treats dandruff
Dandruff is another common problem among individuals with dry scalps. Bacterial infection is one of the important reasons for dandruff, and not being treated in time can be a severe problem. Excessive dandruff problems can be irritating and embarrassing at times. In addition, the scalp becomes itchy and scaly.
You always keep yourself conscious and concerned about dandruff scaled appearing on your shoulders and hair strands. An irresistible itch can cause frustration and a lack of focus on work. Black pepper has anti-inflammatory and antimicrobial properties, fighting dandruff-causing bacteria and keeping your scalp healthy.
How to use:
Take a bowl of curd and add a teaspoon of black pepper powder.
Apply the mixture to the scalp and leave it for 30 minutes.
Wash it off with regular tap water, and do not shampoo your hair until the next day.
Repeat the process once a week only as more than that can cause scalp burn.
Makes hair shiny
Black pepper can also benefit in making your hair shiny and lustrous. The Vitamin C in black pepper works as a natural shining agent for hair. It revitalises dull and brittle hair and offers a glossy shine. Moreover, black pepper oil can strengthen frizzy and dry hair, making it resistant to breakage.
Black peppercorn also contains Vitamin A, carotenoids, and other beneficial properties that make your hair healthy. For example, carotenoids like beta carotene can restore dry and dull hair health. Therefore, black pepper can be an effective remedy for making your hair shinier and healthier.
How to use:
Crush a teaspoon of black pepper and add a teaspoon of lemon juice.
Apply this to your scalp and allow it to sit for 10-15 minutes.
Thoroughly wash the mixture off with regular tap water.
Strengthens hair
Dry and curly hair is prone to breakage. If you have weaker hair, you are likely suffering from excessive hair loss and receding hairline. Also, more hair loss means you have thinner hair not suitable for styling. And if you apply any styling products, you are inviting more hair fall.
Black pepper can help you strengthen your hair and follicles. It is infused with many vital vitamins and minerals like zinc, iron, magnesium, and phosphorus and more than revitalises hair health. These nutrients make your hair lively and robust, strengthening from roots to shafts.
How to use:
Take a teaspoon of black peppercorn and crush them.
Take an equal amount of honey and mix the crushed black peppercorns.
Apply to your scalp and gently massage with your fingertips.
Leave for 30 minutes and wash it with your regular shampoo.
How black pepper is used for medicinal purposes?
Black pepper is a known Ayurvedic medicine for its antibacterial and anti-inflammatory properties. It is widely popular for treating colds, coughs, infections, insect bites, and other digestive issues.

How can I add black pepper to my food?
You can use black pepper in a powder form and use in your daal and sabji. Or crush it in a coarse powder to season your salads, fruits, raitas, and even tea.
Does black pepper help in weight loss?
Yes. Black pepper contains piperine, which prevents the fat from forming and thus can help you in weight loss.
Where to buy a good quality black pepper from?
If you are looking to buy black pepper online, Vyom Overseas can be a good option for you. Here, you can buy bulk black peppercorns and other bulk spices online.