Spices Blog
Buy Bulk Indian Spices From Vyom overseas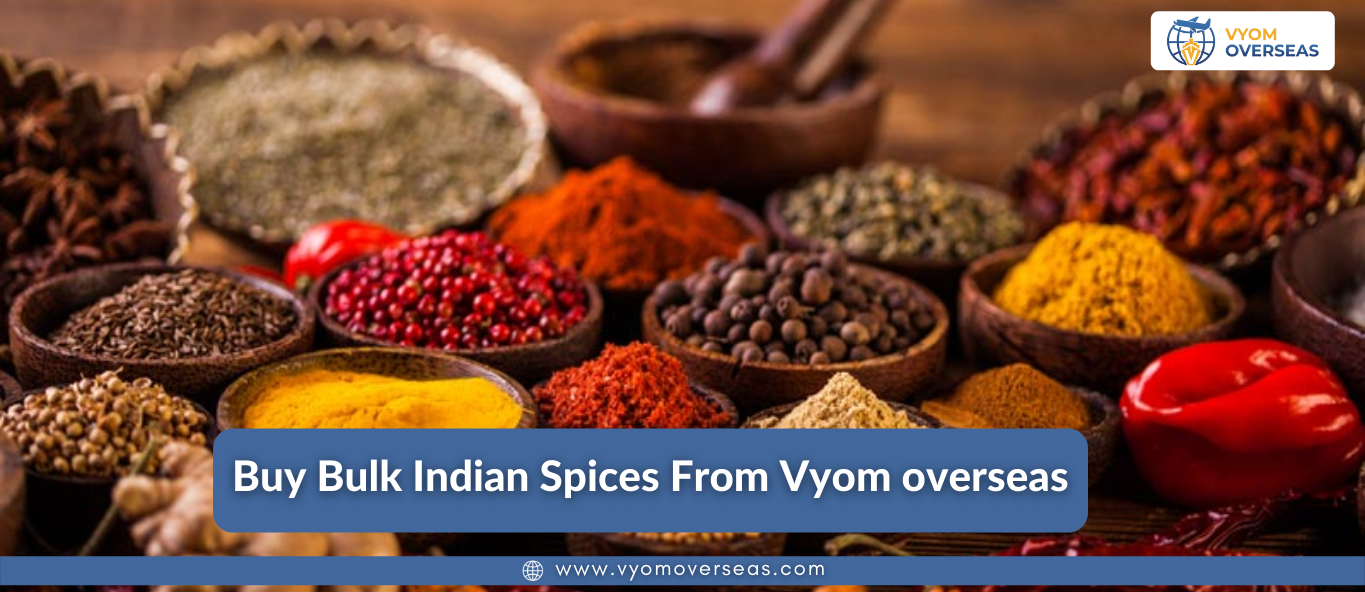 Spices are essential ingredients in any cuisine. Without them, your dishes lack deliciousness. India has been a hub of spices for centuries, providing the world with a range of quality spices. And to further continue that ancient legacy, Vyom Overseas provides the globe with bulk Indian spices online.
Vyom Overseas – Online platform to buy bulk Indian spices
Vyom Overseas is an online platform where you can buy bulk spices, no matter where you live. We are one of the prominent wholesale supplier of spices in India. We Deliver a range of whole and ground spices in international markets.
On Vyom Overseas, you can buy premium quality spices at affordable wholesale prices. We have a team of experts who pick the best quality spices directly from Indian farmers, without any mediator, enabling us to offer our customers spices at a reasonable cost.
Moreover, our quality packaging and efficient delivery mode ensure your spices get delivered to you with utmost hygiene and intact quality. We take care of our customer's health and taste in every facet of our business, from finding the quality spices to hygienic packaging and the fastest delivery.
About Indian spices
India has suitable weather for agriculture, and that is why it produces a range of spices that season and flavour many dishes worldwide. India has a history of spice trades, and it has been exporting various spices from ancient times.
its cultivation of many spices like black pepper, clove, star anise, turmeric, bay leaf, fennel seeds, ginger, coriander seed, cumin seed, fenugreek seed, mustard seed and many others. In Indian cuisine, these spices are either used as whole or ground to a fine powder.
Why should you buy bulk Indian spices from vyom overseas?
Spices are among the basic requirements for kitchens. And, buying bulk Indian spices from the Vyom Overseas may be a good option for many reasons, like:
Lowest prices
We offer a wide variety of Indian spices at a reasonably lower rate. WE pick these spices directly from farmers, eliminating the need for a mediator who keeps their commission. This allows us to offer bulk spices wholesale at many affordable prices in the global market.
Quality spices
Although we provide spices at much cheaper rates, we never compromise quality. Our team of experts handpicks the best quality spices from farmers who adhere to the natural cultivation process. We then store these spices taking the utmost care. Our proper delivery methods ensure our spices remain of superior quality till it reaches your tastebuds.
Worldwide delivery
No matter what corner of the world you are in, you can effortlessly satisfy your culinary needs and taste buds with quality Indian spices, thanks to Vyom Overseas. We provide worldwide delivery of quality bulk Indian spices that infuse your dishes with aromatic flavour and extraordinary taste.
Hygienic package
Hygienic and safe packaging is one of the essential factors contributing to the quality of spices. Therefore, we take utmost care in packing our spices with hygienic and safe practices. Moreover, we use advanced machinery and tools to ensure our spices remain intact in various weather and environmental changes in the countries we deliver.
So, buy bulk Indian spices online from Vyom Overseas
Being a prominent wholesale supplier of spices in India, we offer the best quality whole and ground spices to the world. Our lowest prices, superior quality, and hygienic packaging make us the most sought after Indian spice provider in the global market. You can easily purchase bulk spices online from anywhere in the world. Just send us your inquiry, and we will get back to you as soon as possible.