Spices Blog
An Ultimate Guide to Popular Varieties of Indian Chillies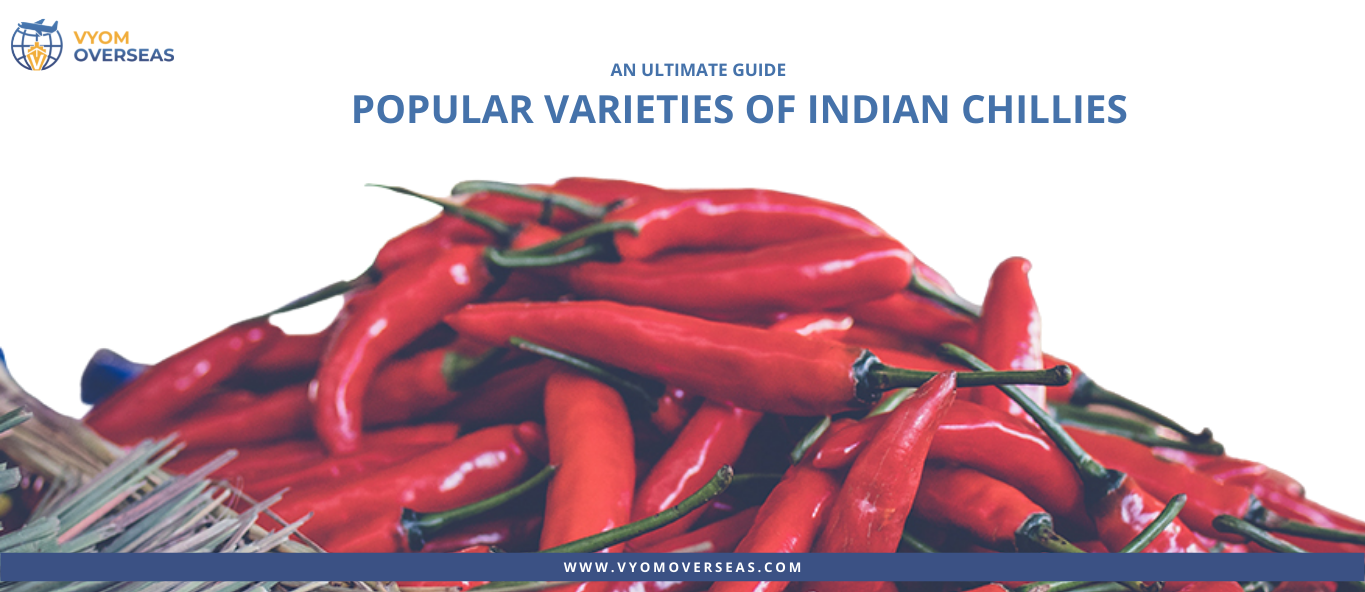 If you talk about Indian spices, one of the first things that come into anyone's mind is chilli powder. This is because Chilli powder, or Mirch in Hindi, is a prominent spice used in cooking across the region.
However, chillies were introduced to India by Portuguese traders in the 16th century. But today, it has become a staple spice in Indian cuisine and is widely grown across the country.
Most Popular Indian Chillies
Indian chillies are highly revered for being hot, pungent, spicy, and full of flavours. And they are widely exported to every corner of the world by wholesale bulk spices suppliers. Moreover, there are a variety of chillies cultivated across the country. And every type has its unique characteristics.
For example, they differ in colour, spiciness, and pungency. Therefore, knowing about each variety is necessary when buying them in bulk.
So, we bring you this guide where you can find a variety of Indian chillies cultivated across the country. Some of them are extremely hot and should be used carefully. And others are popularly used to prepare common spice blends and give attractive colour to dishes.
Bhut Jolokia Chillies, North-eastern India
Noted as the hottest chilli in the world by Guinness book in 2007, Bhut Jolokia is grown in north-eastern regions like Assam, Arunachal Pradesh, Manipur, and Nagaland. The Bhut Jolokia Chilli, also known as Ghost Pepper, is a hybrid version of Capsicum Chinese and Capsicum Frutescens. Due to their hotness, the chillies are not used in regular cooking but sauces, pickles, and chutneys.
Kashmiri Chillies, Kashmir
As the name suggests, Kashmiri chilli is native to Kashmir and its regions. Kashmiri chillies, commonly referred to as Kashmiri Lal Mirch, are bright red chillies with low pungency and hotness. And therefore, they are specifically used to give dishes a brilliant red colour, accompanied by other chilly powders that provide the zing to the dishes.
Jwala Chillies, Gujarat
These are one of the spiciest chillies in India. The name Jwala means fire and is derived from the nature of the chilli. Jwala chillies are commonly cultivated in Kheda, Mehsana, and Southern parts of Gujarat. The Powders of these red chillies have a high pungent flavour and light red colour. These chillies are commonly used to flavour curries, sauces, chutneys and dips.
Byadagi Chillies, Karnataka
Named after a town in Karnataka, Byadagi chillies are moderately hot peppers with shiny-appearing skin. The pepper is very similar to paprika and contains enriching vitamins and minerals like manganese, folate, potassium, and thiamin. This is the most demanding chilli powder in the Indian and International market and is vastly exported across the globe by chilly powder wholesale distributors.
Dhani Chillies, Mizoram
Also known as bird's eye chilli for their resembling shape, Dhani chillies are widely cultivated in Mizoram and some parts of Manipur. These tiny but extremely spicy peppers are widely available in Calcutta's spice markets. Due to their high heat, Dhani chillies are not used in regular cooking, but they are a common ingredient in pickles and sauces in Manipur and Mizoram.
Kanthari Chillies, Kerala
Kerala is a major cultivator of black pepper, cloves, and other spices. But it is also home to some of the most flavourful chillies of India – Kanthari chillies. Kanthari chillies are known as bird's eye chillies of Kerala, as their smaller shape resembles a bird's eye. Moreover, they are spicy and aromatic in flavour and are commonly used to spice up dishes.
Ramnad Mundu Chillies, Tamilnadu
Ramnad Mundu chillies are a widely grown variety of chillies in the Ramnad region of Tamilnadu state. The pepper is almost spherical in shape and has a bright red or orange colour. Moreover, it has a good spiciness content and is a common ingredient in Sambar, Rassam, curries, tadkas, and Chettinad cuisines.
Sannam Chillies, Andhra Pradesh & Madhya Pradesh
Sannam is revered as a King of Red Chillies among Indian chilli variants. The pepper is widely cultivated in Andhra Pradesh and Madhya Pradesh. Sannam chillies are widely used as a powder to spice up various dishes across India. Moreover, the chilly is also popular in Indian and international spice markets and therefore, it is one of the most widely exported Indian chilli variants by red chilli powder exporters in India.