Kitchenware Blogs
5 Ways Vegetable Chopper Can Be Your Best Kitchen Partner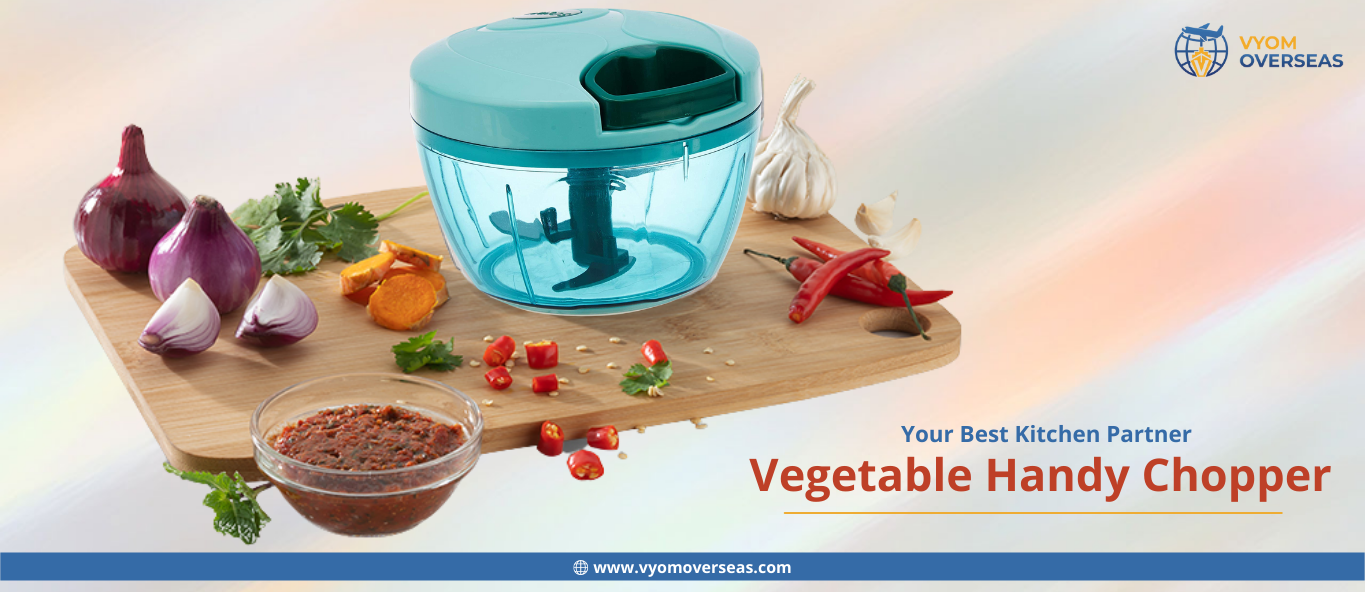 If you often find yourself in the kitchen chopping vegetables and fruits, this article is for you. Chopping is such a tedious kitchen task that, more often than not, it takes a lot of your time than the actual job – cooking.
Moreover, traditional chopping tools like knives do not give that much support in making yourself efficient in the kitchen. On top of that, those frequent finger cuts are inevitable when using a knife.
Luckily, kitchens are becoming more advanced with modern kitchen tools coming into the market nowadays. One such tool is a vegetable chopper. Vegetable choppers are slowly but steadily becoming a mainstream tool in modern kitchens.
They are safe, efficient, and super easy to use. You can effectively speed up your cooking and reduce your kitchen time if you invest in a good-quality vegetable chopper.
If you don't know where to buy this handy kitchen tool, a vegetable chopper wholesale exporter would be a great place. This handy tool doesn't cost more than a few bucks, so it would be a cost-efficient kitchen investment.
But why should you replace your conventional knife with a vegetable chopper, you ask?
After all, you're comfortable using it (despite those cuts, right?). So let us just state a few of the various advantages of using this trendy and handy vegetable chopper tool.
How Vegetable Chopper Can Help You
Makes You Productive
If you are someone who has to get up early to catch a train to the office, but meal preparations always make you late. Then a vegetable chopper is undoubtedly a solution for you. This handy tool comes with the sharpest stainless steel blades, making your chopping job easy.
While, as you know, chopping consumes more of your time than cooking. So, investing in a good-quality chopper can help you reduce your veggie-chopping hours to minutes.
Whether you want to chop onions or tomatoes or mince garlic and ginger, or cut fruits, a vegetable chopper will be at your service. With this handy tool, you can make your morning meal preparations speedy and keep other things at a relaxed pace.
Keeps Your Fingers Safe
We all know how unsafe knives are because, in some instance or another, we all have hurt ourselves with sharp knife blades. A knife is always an enemy to a hustle chef. You can't go through the cooking process without injuring yourself if you hurry. However, with a vegetable chopper, you completely eliminate this frequent hurting.
This handy chopper comes with a container that conceals its sharp blades and vegetables inside. It operates by pulling a nylon string given on the lead. So your hands are completely safe and out of contact with the blades.
You can get this vegetable chopper from a bulk kitchenware wholesale provider in various sizes and capacities. As it comes with a large capacity as well, you can put a considerable quantity of veggies at a time and save your chopping time.
Increase Your Efficiency
While the vegetable chopper tool keeps its sharp blades away and saves your hand, it also increases your efficiency in the kitchen. It comes with a large capacity container that can cut, chop, mince, or even puree vegetables.
This allows you to do your chopping job very quickly. And, your half an hour of chopping time could be reduced to a few minutes or even seconds.
When you have this tool in your kitchen, you don't have any hassle when chopping. This task is efficiently handled by this powerful vegetable chopper. You just need to focus on the main process – cooking – as it affects the taste of your food.
Keeps things uncluttered
You often have a mess over your kitchen counter when chopping citrusy fruits or veggies. The vegetable juice spilling on your kitchen counter surface adds one more cleaning chore.
And it feels frustrating, doesn't it? First, you waste time chopping veggies. Next, you prepare your meal, which feels like hell when summer's on. And lastly, now you have to clean the counter because you can't leave that sticky, slimy vegetable juice.
Vegetable choppers, on the other hand, reduce your after-cooking cleaning chore. Its container and a well-sealed lid do not allow any veggie fluid to fall on the surface. Hence you don't have to clean anything other than the container and blades.
Easily washable tool
When you finish your meal preparation, the time comes when you wash all the dishes and utensils. Now think how careful you have to be cleaning that conventional bare knife.
One reckless wipe, and your hand bleeding with a cut. In contrast, vegetable choppers have little curvy blades that are easy to wash. The non-BPA plastic container also allows seamless cleaning. Moreover, this handy tool is dishwasher-friendly, further easing your job.
Although, still, you want to confirm the dishwasher-friendliness of your vegetable chopper when you buy a handy vegetable chopper from a leading kitchenware experter.