Product
SPICE STAND (7 Pcs Set)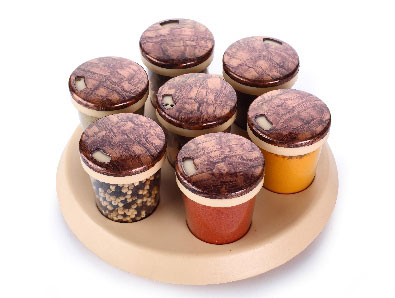 We present you with the spice stand that usually comes in a seven-piece set. It is made up of high-durable and high-quality plastic material with a rotating cover.
Moreover, it is primarily used to store different types of spices used in food preparation. It gives an elegant look to the kitchen with dual-color copper and wooden. We also offer you a 7 Pcs Spice Rack.
What are the features of the spice stand?
There are multiple features and functions of this spice stand. First of all, it is an airtight container maintaining good health and hygiene by keeping food ingredients for a long time. It has a transparent clear see-through design that ensures the visibility of spices.
In addition, it has seven removable cups for storing herbs, spices, or dry fruits. It is easy to hold, pick up and carry by keeping spice fresh for long hours.
| | |
| --- | --- |
| HSN CODE | 3924 1090 |
| COLOR | Copperr, Wooden |
| MINIMUM QUANTITY | 48 Pieces |