Spices Blog
A Quick Guide On Buying Spices Online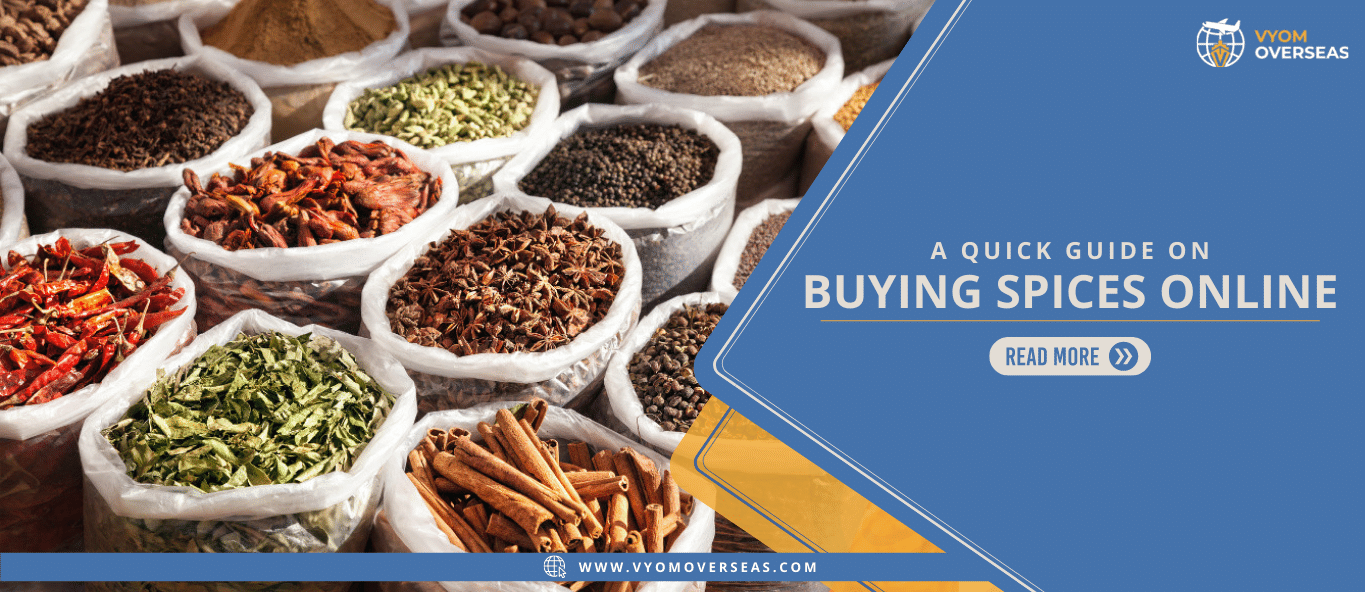 People can be full of doubt when buying spices online, and for a reason. Spices are something that has to be verified before procuring. The taste, smell, and colour are some of the prominent parameters that people prefer to check to determine the quality of the spice. And online facilities do not allow them to do so.
However, people also love the comfort and convenience online buying offers. Buying spices online can be a tricky subject, but choosing a reliable Indian spice exporter and considering these three factors would help you make the best choice.
What is their origin?
The source of spices tells you a lot about them. When browsing websites to buy wholesale spices online, go through the product description listed there and try to find out the origin of the spices. You might also find it on "about us" or one of the blogs posted on the site.
You might find not just the country of the spice where it is cultivated but much more specific information as well, such as region, village, or even family that farms it.
Certain spices are native to certain regions, such as black pepper and cloves, in Kerala, India. Therefore they should be sourced from that region only. Moreover, ethically and consciously sourced spices are likely to be of the highest quality.
As opposed, commodity spices acquired via brokers or auctions are often combined with similar spices sourced from various regions or grown with inadequate care, which lowers the quality.
How are they packaged?
Packaging is often a marketing trick for companies to inflate their prices. Beautiful covers are often considered lucrative, which attracts customers to buy the products. Such packaging infuses a sense of reliability and assured quality among the buyers.
But sometimes, this may not be the actual case. For example, a nice packet might contain low-quality spices. But, since we check packets only, we can't actually realise before using them. The purpose of packaging should be to identify the content and make it fresh.
In this regard, transparent plastic jars with screw-top lids are great packaging for spices. Plastic packets with zip seals are also a good way to keep herbs fresh for longer.
Some also seal their spices in metal cans, which does not allow customers to see the product, but makes a great package against environmental factors. It is an eco-friendly option as well.
However, if you are buying wholesale spices online, plastic is a good packaging option as it saves your spices throughout the shipping process.
How are they sold?
Many people suggest buying spices in the whole form to avoid adulterated powders. Ground spices often contain flour, stem, and other fillers, colours, preservatives, and other chemical substances to look and smell fresh.
Consuming these spices not only makes your food less tasty but also may be harmful to your health. And adulteration is one of the prominent concerns that stop people from buying spices online.
However, with a reliable Indian spices global suppliers like Vyom Overseas, you can easily overcome this concern. We procure our spices directly from Indian farmers who follow healthy farming practices. And process them in cutting-edge cryogenic technology-featured processors which retain the quality and colour of these condiments. Hence you can be completely assured of getting the highest-quality authentic spices from us.
If you want to buy Indian spices online, check out our vast catalogue on our website. We process and deliver a variety of spices across the globe. If you want to enquire about spices or want to know more about us, contact us today, and we will get back to you promptly.