Product
Pickle Stand (4 Pcs)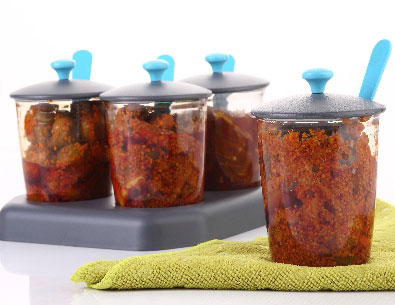 We offer a plastic pickle stand with ABS plastic-type. It comes in various colors such as orange, sky blue, pink, green, and copper wooden.
Extra features include a 4 pcs set and an unbreakable container. You can also check out Dining Stand which is our kitchenware product.
What are some tips to use Plastic Pickle Stand quickly?
We will provide some tips to use a Plastic Pickle Stand in the form of a user manual along with the product.
You have to just put the amount of pickle as per the requirements into our uniquely designed transparent round Plastic Pickle Stand.
In order to store a pickle for a long time, a solid plastic jar fitted with a tight plastic lid is best suited for this purpose.
| | |
| --- | --- |
| HSN CODE | 3924 1090 |
| COLOR | Orange, Sky Blue, Pink, Green |
| MINIMUM QUANTITY | 64 Pieces |