Kitchenware Blogs
How to Get Rid of Stains & Smell From Your Plastic Kitchenware?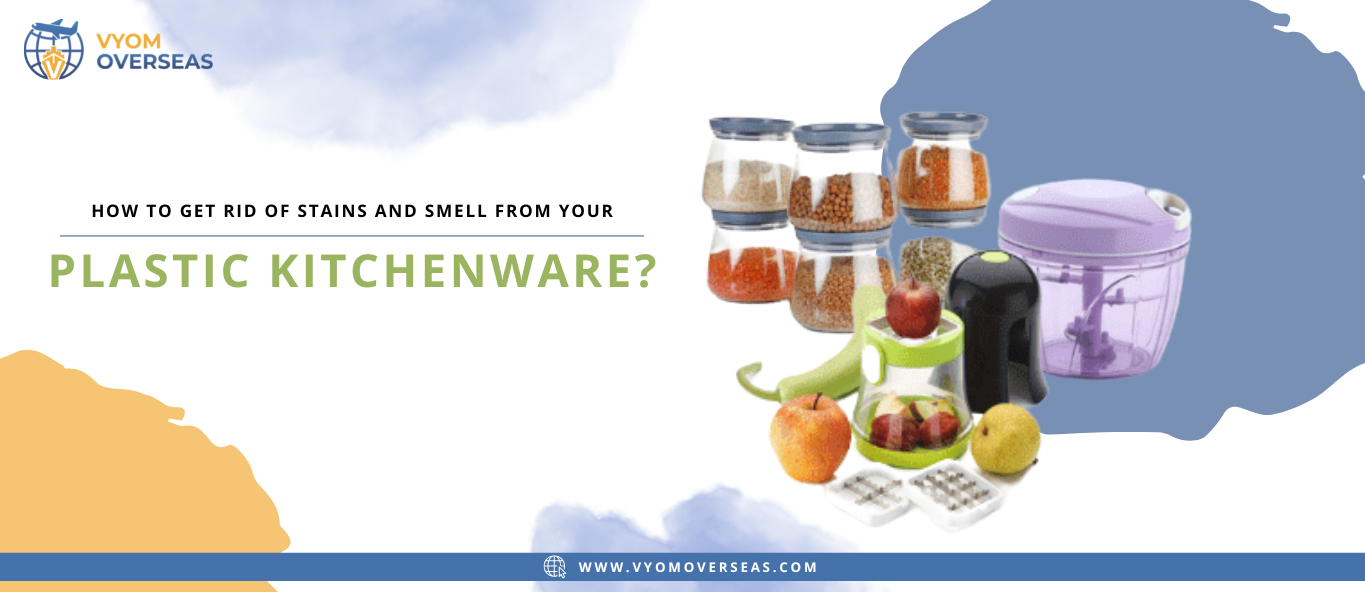 Plastic is a good kitchen companion. Robust, lightweight, and durable, plastic is the most sought-after kitchenware material, especially for containers and serving vessels.
But sometimes, plastic kitchenware gets stains and odor from the food it contains. Though washing them twice or thrice with soap can be an effective remedy, sometimes this does not work.
Being wholesale kitchenware exporters, we often get queries from our customers on how to get rid of stubborn stains and smells of their plastic kitchenware.
The problem with plastic is that you can't scrub them with harsh wire scrub. This makes their surface flaky and might scrap the microfiber particles, which may harm your health.
But that does not mean you have to throw your vessel away. With these tips, you can easily eliminate foul smells and stains from your plastic kitchenware without using harmful chemicals or scraping tools.
How to Get Rid of Smell From Plastic Kitchenware?
The smell of old food on plastic containers could ruin the flavor of other food items you store in them. That is why getting rid of the smell is important.
If you have tried washing your kitchenware multiple times but still the smell persists, here is an effective home solution for removing the smell from your utensils.
Dissolve 4 teaspoons of baking soda in 900 ml of water.
Put the plastic container in this mixture. If your container is too big, pour this mixture into it and let it sit for about 30 minutes or until the smell disappears.
Rinse the kitchenware using clean tap water and smell to check if the odor remains.
If you still smell the odor, stuff the crumpled newspaper into a container and close it with the lid. In the case of plastic utensils like spoons, wrap the newspaper around them.
Let it sit for a few days for the paper to absorb the rest of the smell.
After a few days, open the container or unwrap the utensils and wash them with soap and water.
How to Get Rid of Stains From Plastic Kitchenware?
The smell is easier to remove from plastic kitchenware. But sometimes those pesky stains could not go with even twice or thrice washing round. There are various kitchen cleaners available in the market.
But if you don't want to introduce any chemicals to your kitchen, here is a chemical-free home remedy to remove odor from your plastic kitchenware.
Wash your container with warm water and soap.
Fill your container with pure distilled vinegar up to the level of the stain. If it is a spoon or other non-container plasticware, dip it into the vinegar. Alternatively, you can use rubbing alcohol or hand sanitizer instead of vinegar.
Let the vinegar do its job for about half an hour to an hour, depending on the severity of the stain.
After half an hour or an hour, pour the vinegar out and pour a generous amount of dishwashing lid.
Scrub the plasticware with a sponge or slightly abrasive cleaning brush. But avoid rubbing the utensil too hard.
Rinse the container and see if the stain has gone. If the stain persists, you might have to use one of those chemical-based kitchen cleaners.
Bottom Line
Plastic kitchenware is efficient, but sometimes they acquire those hard-to-remove stains and smells. These tips could be the best remedy to remove those food stains and odors from your plastic kitchenware containers.
Alternatively, you can avoid these issues altogether by getting high-quality plastic containers from reliable wholesale plastic kitchenware suppliers like Vyom.
We give our customers complete assurance on the quality of kitchenware that can resist the stain and stink and does not retain them for longer.